Staff Wellbeing and Retention
Humans have an innate desire to be connected to nature. We specified over 100 plants for the city-centre offices, including succulents for ease of maintenance and palms for their higher rate of CO2 consumption. According to a study by CIPHR, plants are proven to:
reduce stress
reduce noise
reduce sickness
improve air-quality
increase productivity
attract new staff
For Instil, we specified a range of natural materials;
solid resawn oak tables
solid maple reception desk
maple dividers
red bricks and oak flooring
terracotta pots and woolen throws
Physical Health

The kitchen is self-contained far from the workspace to encourage movement and planned breaks, reducing mindless eating. A fruit bowl and hydration station are on display, with biscuits hidden in cupboards, and there is a shower room for the keen lunch-time runners!
Social Cohesion
Staff stay longer in jobs where they have built camaraderie but Instil staff had a tendency to eat alone at their desks. We designed the kitchen and break-out area to invite relaxed interaction:
padded, informal bench seating instead of intimidating "canteen style" tables and chairs
playful "Wish you were here!" sign
sofas and coffee table en route to desks to encourage spontaneous conversation
BBQ area on terrace joining kitchen and community area for social events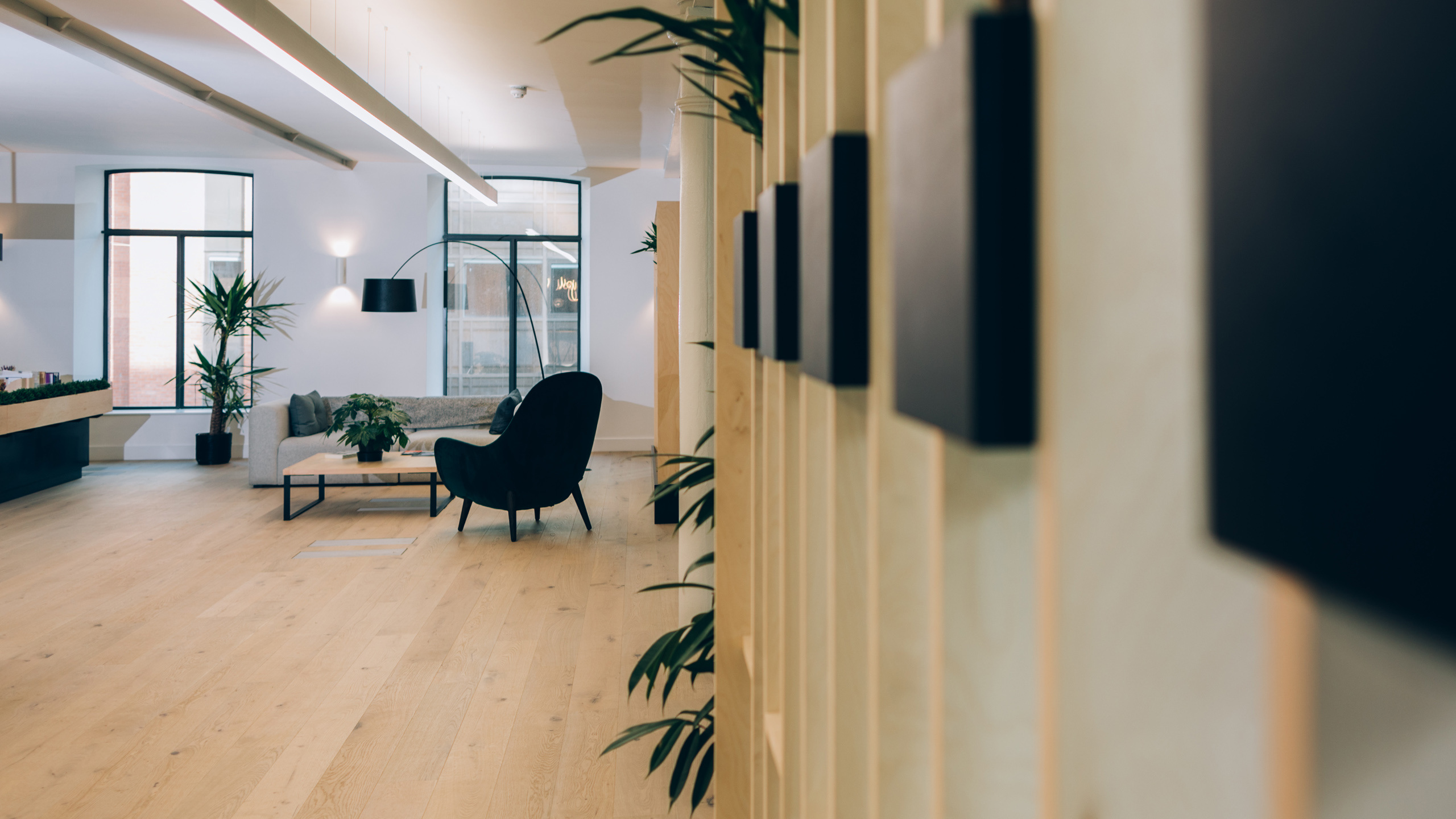 Choice
Employee choice is key to retention and productivity. In Instil, desks are fitted with a rise-and-fall mechanism.The kitchen, meeting rooms and community area are equipped with tables and sockets to serve as alternative work stations.
Quality and Sustainability
All items made by Terry Design + Fitout were plastic-free and were transported just 30 miles to site, reducing the carbon footprint. To combat today's throw-away culture, the highest specification was made for quality, comfort and sustainability throughout the office:
Engineered timber flooring can be refinished as required
Vitra meeting room chairs and Hay sofas selected for comfort
Low-energy LED lighting
Durable powder-coated steel
Locally-sourced soft furnish­ings by Mourne Textiles
The reception desk with its solid maple water-jet cut logo is lit by a custom-made steel pendant designed in perfect proportion to the desk, with fixings hidden in the ceiling, setting the tone for a company with great attention to detail.
Flexibility and Growth
Technology is always changing so we created an aesthetic that is timeless and neutral, freeing the brand to evolve without being tied to trends. Natural maple and oak are mixed with soft blue and green uphol¬stery and finished with meaningful artwork, including the founder's first keyboard, and handmade ceramics which can be changed as the brand evolves.

Lighting Environments
Just as gardens thrive in optimum light levels, we designed spaces with various lighting temperatures according to activity. The training room and main desk area are flanked by 6 large windows for abundant natural light. Employees may choose to supplement this with wall and/or ceiling lights fitted with daylight bulbs (5000K) to aid concentration and productivity. Meeting rooms have slightly warmer lighting, giving approximately 3000-3500K to foster creative brainstorming, invaluable in the tech industry. These can be turned off for presentations, when a lower level of light enters through internal glazing. The kitchen's neon sign and under-shelf lighting are approximately 2700K to create a warm, welcoming and relaxed social area and its black walls also create an atmospheric contrast to brighter workspaces for a psychological break.
Training room and work area - alertness and productivity
5000-5500K
Meeting and board rooms - creativity and discussion
3000-3500K
Kitchen and eating area - relaxation and social engagement
2700-3000K
Raised Access Flooring
All services including air conditioning vents were housed in the floor. This was the first of its kind in Northern Ireland and was unsuitable for tiling which had been our intention. The client was opposed to carpet tiles, but our search resulted in a solution with which everyone was happy. We sourced a luxury loop pile grey carpet tile by Milliken which:
Allows easy access to services
Disguises the grey vents due to the carpet's grey linear texture
Has the appearance of a rolled carpet due to thick pile disguising joins
Has excellent sound-absorbing properties for improved acoustic in discussion areas
Immovable Deadline
Instil's lease terminated on 31st October, with significant financial penalties if overrun by even one day. We agreed to have the kitchen and office space functioning by 30th October, with non-essential items to follow. However, we exceeded this target; with the exception of two light fittings which were delayed in transit, the project was entirely fitted by 27th October, leaving extra time for an office transition with no fines and (almost!) no stress.